Triple H Biography
Real Name: Paul Michael Levesque
Birthdate: July 27, 1969
Height: 6'4"
Weight: 260 lbs.
Eye Color: Hazel
Hair: Blonde
Nicknames: Triple H, The Game, the Cerebral Assassin
Past Characters: Terra Ryzing, Jean-Paul Levesque, Hunter Hearst Helmsley
Titles Held: IWF Championship, IWF Tag Team Championship, WWF Intercontinental Championship (4), WWF European Championship (2), WWF World Championship (5), WWF Tag Team Championship, 1997 King of the Ring
******************************
Paul Michael Levesque, the man later to become known as Triple H, was born in Nashua, New Hampshire on July 27, 1969 to Paul and Patricia Levesque. He grew up in a close-knit family, with a loving sister named Lynn, four years his senior.
Growing up, Paul was obsessed with professional wrestling. An avid fan, he would watch at every opportunity, glued to the television as Hulk Hogan, Ricky Steamboat, Randy Savage, and his idol Ric Flair sold out arenas around the world. During his high school years, he developed a love for bodybuilding, and spent his time developing his physique rather than participating in team sports, which he had little interest in. Paul was a good student, but later admitted to getting in trouble quite a bit for "not knowing when to keep my mouth shut". After graduating from Nashua High School at age 17, Paul continued working out and also going to school for awhile (he had an interest in graphic arts, and a talent for drawing), but he still wanted more than anything to become a professional wrestler. He worked as a consultant at health clubs in his area, and tried to find out how to get into the very few wrestling schools he knew about (but in his own words, "Nobody would tell you shit."). He won several regional bodybuilding competitions, and met Ted Arcidi, a wrestler known for his massive physique and for being the first man to bench press 400 pounds. Arcidi introduced Paul to Walter "Killer" Kowalski, who ran a wrestling school in Massachusetts, not far from Paul's hometown in New Hampshire. Kowalski immediately saw potential in the young six-foot, four-inch, muscular 275-pounder, and took him on as a student. Paul caught on to wrestling at an impressive speed, often coming in for extra training sessions with Kowalski after the other students had left. In a relatively short amount of time, he was ready for his professional debut. In March of 1992, he had his first match in Kowalski's IWF independent promotion, wrestling under the name Terra Ryzing (Kowalski's attempt at humor... Terra Ryzing = Terrorizing, get it? Ha.) He would play the role of a killer heel in the IWF, capturing the IWF Championship and teaming with Perry Saturn to capture the IWF Tag Team Championships as well.
Barely a year into his career, Paul received an offer from the WWF. Pat Patterson, an agent for the Federation, had come up to an IWF shows and had been very impressed with the blonde rookie. Paul, however, knew that he was not even close to being ready to wrestle for a company like the WWF. He began trying to get into WCW, so he could learn the business better and at a slower pace. He received a tryout with WCW and flew down to Atlanta on his own expenses to make the appearance. He wrestled Keith Cole, and was told before the match that it would not be shown on TV. Soon after, WCW offered him a contract, for two years. Paul took a contract for one year, instead; he knew at the end of one year, he would know whether he was ready to move on to the next level, or if he still had a lot of work left to do. He then went home, and, while waiting for WCW to come up with a new character for him (rather than the Terra Ryzing gimmick he was wrestling under), he was surprised to see himself on WCW Saturday Night, wrestling in his tryout match.
It took about half a year before WCW finally gave Paul the gimmick change they had promised him. Being the marketing geniuses that they always have been (with great characters like "Oz" and "Roadblock" in their belts), WCW realized that Paul's last name, Levesque, was French, and decided to give him the gimmick of a snobbish French aristocrat. Paul Levesque soon became known as Jean-Paul Levesque, and cut promos using the best French accent he could develop (which, as he would say later, wasn't very great). Eric Bischoff didn't see much promise in Paul, unfortunately, claiming that Paul just didn't have the charisma to become a big star. Paul was jobbed to Alex Wright, who was barely in his late teens, at his first (and last) WCW pay-per-view, Starrcade 1994. He was, however, on the verge of getting his first major push (set to capture the WCW Tag Titles with Steven Regal), when his contract started to expire. He received a call from Vince McMahon; Vince told Paul that he really wanted him to work for the WWF, that he would be given a good spot, and a better opportunity to develop his wrestling ability than he was receiving in WCW. Paul had to decide, bigger money, or opportunity? He picked the opportunity, and left WCW that spring.
Paul visited the WWF backstage at Wrestlemania XI, getting acquainted with the locker room, and meeting the men who would later become his best friends in and out of the company; Kevin Nash, Shawn Michaels, Scott Hall, and Sean Waltman (collectively known as the "Clique". He would debut in the WWF in May of 1995, still wrestling with the gimmick of a snobbish aristocrat. This time, however, the gimmick was an American aristocrat, hailing from Vince McMahon's own hometown of Greenwich, Connecticut. The character's name was Hunter Hearst Helmsley, and he would come to the ring wearing a tuxedo jacket, sporting a cane and a bottle of cologne à la Rick "The Model" Martel. Hunter's early feuds would be with men who were the antithesis of the Greenwich Snob character; Duke "The Dumpster" Droese (a garbage man), Henry Godwinn (a hog farmer from Bitters, Arkansas), just to name a few. He wrestled against Godwinn in a Hog Pen Match at Hershey Arena at an In Your House Event in late 1995; Hunter was victorious, but Godwinn got the last laugh at the end by dumping him into the hog pen, filled with dirt, hogs, and hog feces.
Hunter was getting off to a good start in the WWF when it came to wrestling. Backstage, however, was another story. He and his group of friends mentioned above were considered to be a bunch of troublemakers, using backstage politics to get themselves and their buddies ahead, burying their enemies, or just causing chaos backstage with their immature antics. Paul was guilty by association, even if he had little part in the poor behavior of the older and more prominent Clique members. It all came to a head in May of 1996, when the contracts of Kevin Nash and Scott Hall expired. The two decided to head to WCW; the grass may not have been greener, but the money sure was. Their last matches took place at Madison Square Garden. Hall wrestled Hunter; after getting thrown around like a rag-doll for the majority of the match, Hunter claimed the victory in the end. Soon after Shawn Michaels triumphed over Kevin Nash in the cage match main event. Afterwards, Hunter and Scott both came down to the ring, entered the cage, and the four Clique members embraced each other in farewell, playing to the cheering crowd before leaving. Vince had okayed the Clique doing a little "something" at the end of the show, but to many members of WWF management, the "Curtain Call" (as it came to be known) had gone too far. Vince had no choice but to punish somebody for the incident. Hall and Nash were leaving, so punishing them wasn't an option. Shawn Michaels was the new WWF Champion and Vince's current top star; there was no way he'd be getting dumped on. Hunter was left holding the bag.
For the majority of 1996 afterwards, Hunter was jobbed out to every single mid-carder and curtain-jerker on the WWF roster, from an over-the-hill, out-of-shape Jake Roberts, to Barry Windham, Ahmed Johnson, you name them. Set to be the King of the Ring winner for 1996, the spot was taken from him and given instead to Steve Austin. Hunter was squashed by Sid Vicious in the first round of the Intercontinental Title tournament in August of '96. He was kept off of all WWF pay-per-views from June until October, when he wrestled and lost to Steve Austin.
The night after his PPV defeat to Austin, though, things would turn around. Hunter captured his first WWF Intercontinental Championship, from "Wildman" Marc Mero, with the help of Curt Hennig. As if to remind Hunter that he was still at least partially in the doghouse, he would be jobbed twice while IC Champion; once to Shawn Michaels (who was the World Champ), and once to Sid Vicious (after Sid became World Champ a little later). He would reign as the IC Champion until February of 1997, when he would lose it to another young up-and-comer, babyface rookie Rocky Maivia. Soon after his IC Title loss, Hunter gained a sidekick; a musclebound woman appeared on the scene and began attacked his opponents. Called "Chyna", the woman would become his bodyguard (and eventually his real-life girlfriend) for the next few years. In June of 1997, Hunter would become King of the Ring, a year later than originally planned. His interview with Vince McMahon on his KOTR victory the next night on Raw was interrupted by Mankind, whom he had defeated the night before. Hunter would feud with Mankind for the next two months, with a double-countout at the July '97 In Your House in Calgary, and a loss to Mankind in a cage match at Summerslam in August.
Things began to take an interesting turn for Hunter, yet again, in late summer of 1997. He would be forced into teaming with real-life best friend, Shawn Michaels, to wrestle the combination of Mankind and Undertaker. Both Shawn and Hunter feigned discontentment at having to team together, but the chemistry was there, and the two left together after Shawn splattered 'Taker into oblivion with two vicious chairshots during the match. Hunter began regularly appearing alongside Shawn Michaels, helping him beat up the Undertaker and members of the Hart Foundation. He would help HBK capture the European Title from British Bulldog at One Night Only. Soon after, Shawn began another feud with Bret Hart (which would climax with the infamous Survivor Series incident). In October of 1997, Shawn and Hunter, playing off of Bret's labeling of them as "degenerates", declared themselves to be "Degeneration X", and a new era was born in the WWF.
The original Degeneration X would have countless classic moments, from a strip poker game in the middle of the ring, to the Merry Kissmass thong display in December, the DX Undertaker BBQ, the fake leg incident... for fans of Shawn and Hunter, this was a great time to be watching. With Shawn being forced to stop wrestling due to a back injury, however, Hunter took the lead role of DX after Wrestlemania in March of 1998. He inducted Road Dogg, Billy Gun, and X-Pac (Sean Waltman) as members of the new DX, and the group continued to raise hell for another year. That August, in a memorable ladder match against the Rock, Hunter would capture the Intercontinental Title for the second time.
At Wrestlemania XIV, Triple H would turn on his DX companions and turn heel. He began to develop into the sledgehammer wielding bad-ass we all know today. As the cold-blooded killer heel, he changed his look, wearing regular wrestling trunks rather than pants, growing a small beard and mustache, and wrestling with his hair down and wet, to give him a rougher, more lethal look. In August of 1999, the day after Summerslam, Hunter would capture his first WWF World Championship, from Mankind. His first title reign would end soon after to none other than Vince McMahon, but he would regain it shortly afterwards. In December of 1999, he began a storyline as the husband of Stephanie McMahon, forcibly marrying her in a drive-in theater to piss off Vince. Steph would later reveal that she was in on it the whole time, and the two would dominate the WWF for over the next year, in what became known as the "McMahon-Helmsley Era". Stephanie and Hunter would later become a real-life couple after Hunter and Chyna (Joanie Laurer) broke up in early 2001.
2000 would be Hunter's best year to this day. He put on a stellar set of PPV matches, from January at the Royal Rumble where he wrestled Mick Foley in a street fight, to May at Judgment Day where he disproved all his critics by going sixty minutes with Rock in an Iron Man Match that hooked the crowd from start to finish, to great matches with Kurt Angle, Chris Jericho, and Chris Benoit throughout the summer and fall. Hunter was declared 2000's Wrestler of the Year by many wrestling sites and magazines, among them WWF.com itself. 2001 took a turn for the worst. On May 21, teaming with Steve Austin against Chris Benoit and Chris Jericho, Hunter suffered a torn left quadriceps muscle. He had surgery the next day, and worked as hard as humanly possible to come back. After eight months of strenuous rehab in Birmingham, being away from friends and family and the business that he loves, Hunter returned to an ecstatic crowd at Madison Square Garden on January 7th, 2002. At Wrestlemania X-8 soon after, he would capture the World Title from Chris Jericho. Unfortunately, numerous injuries since his return have kept the man known as "The Game" from competing at the level he did in 2000; he has dealt with pain from his freshly healed quadriceps, soon after that, he discovered he had a broken kneecap on the same leg, and wrestled through the pain. He then suffered an elbow injury after being hit with a chair by Undertaker, bone chips going into his elbow and making it impossible for him to straighten his arm the whole way. He has recently recovered from that injury, and is set to wrestle Shawn Michaels at Summerslam in Shawn's return (and possibly last) match. Hopefully, Triple H will be able to get through the rest of the year injury-free, and be able to reclaim his position as the best wrestler in the business.
Defeated Mankind in the finals to become the 1997 King of the Ring European Title (4) Defeated Shawn Michaels on December 11, 1997
Defeated by Owen Hart January 26, 1998
Defeated Owen Hart on March 17, 1998
Defeated by D'Lo Brown on June 14, 1998
Tag Titles (1) Defeated the Undertaker and Kane with tag partner Steve Austin April 29, 2001
Defeated by Chris Jericho and Chris Benoit on May 21, 2001
Intercontinental Title (5) Defeated Marc Mero October 21, 1996
Defeated by The Rock Febraury 13, 1997
Defeated The Rock August 30, 1998
Forfitied the title to Ken Shamrock on October 11, 1998 due to injury
Defeated Chris Jericho April 5, 2001
Defeated by Jeff Hardy April 12, 2001
Defeated Jeff Hardy April 16, 2001
Defeated by Kane May 20, 2001
Defeated Kane on October 20, 2002
Title unified with the Raw Heavyweight title and retired, making Triple H the last ever IC champion
World Heavyweight Title (4) Defeated Mankind August 23, 1999
Defeated by Vince McMahon September 19, 1999
Won the Vacant title in a Six Pack Challenge Match September 26, 1999
Defeated by Big Show November 14, 1999
Defeated Big Show January 3, 2000
Defeatedb by The Rock April 30, 2000
Defeated The Rock May 21, 2000
Defeated by The Rock June 25, 2000
Undisputed Title (1) Defeated Chris Jericho March 17, 2002 at Wrestlemania 18
Defeated by Hulk Hogan April 21, 2002
Monday Night Raw Title (1) Was awarded the first ever "Raw" title September 2, 2002 by Eric Bischoff
Defeated by Shawn Michaels on November 17, 2002
Defeated Shawn Michaels on December 15, 2002 at Armaggedon
Triple H became only the second man in Federation history to win the "Grand Slam" title in 4/01 by becoming the tag team champion with Steve Austin. This feat, as of this writing, has been accomplished by only one other man, Shawn Michaels, in 1997.
Triple H
Triple H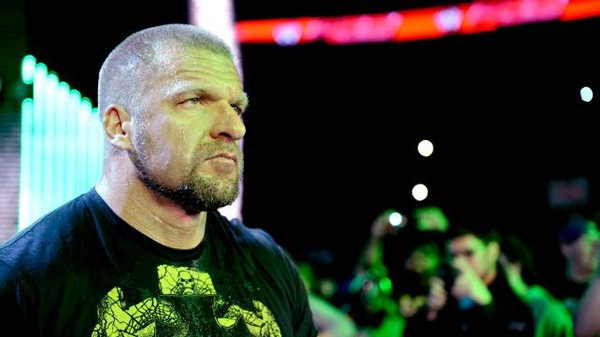 Triple H